press release
MinD Exhibit with The National
Brownmonkeys at MinD from Evildogboy on Vimeo.
Brownmonkeys Interview at the "Twenty Something" show
The Brownmonkeys interview at Dubai One's "Twenty Something" show. TWENTY SOMETHING showcases some of the hottest commercial and underground talent based in the UAE and the Region.
Monkey Business

Campaign ME, Inspiration, 10.04.09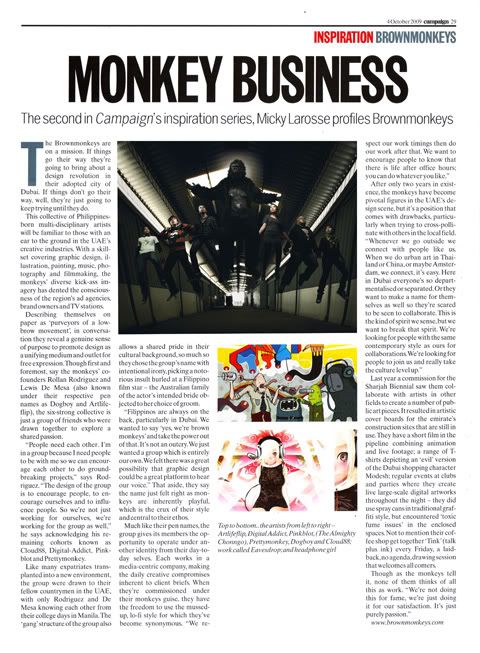 My Name Is Robot
Wayakom, MTV Arabia, 03.30.09
MTV Arabia's coverage of the UAE's first ever custom designer toy show at thejamjar gallery in Dubai.
Guerillas in the midst?
Time Out Dubai. 03.19.08
Underground art? In Dubai? Chris Lord goes in search of the mysterious, renegade Brownmonkeys for answers.
'They're scared of people like us. They think we're rebellious. And we are in a way, but only because we act like kids. We act like monkeys.' Rollan Rodriguez and Lewis De Mesa, or Dogboy and Artlifeflip respectively, strike a balance in Dubai's art scene. Meeting with them is refreshing. It is a reminder that, ultimately, there can be a simple joy in producing art. That it can be taken for what it is, and made something of a way of life. Without taking itself too seriously.
The Brownmonkeys formed two years ago – a collective of Filipino artists, graphic designers, print-makers, poets and film-makers. 'We were all doing a similar thing, and some of us knew each other from college,' explains Rodriguez (above right, inset), whose character is as imposingly jovial as his slightly bear-like appearance. 'We're buddies that came together to push our art to a higher level.'
The reality of what they're trying to do is much more visible. Wearing loud, customised trainers or T-shirts finished with their own designs, the whole aesthetic of the project hangs on making their art into a lifestyle. There's something familiar about it – graffiti-infused motifs, stencils, a liberal use of spraypaint and (centrally) an invective, playful humour that breathes life straight into works on their roster. It's a style that would find common ground in the guerrilla design houses of Berlin, or the decrepit warehouse culture of East London. Their works have an undeniable (and indefinable) visual language that reverberates in these very urban cityscapes. But here, in Dubai? Where's the post-industrial decay, the buildings ablaze at street level with scrawled motifs and anti-establishment slogans?
'There's nothing here in Dubai. There's zero, man' says Rodriguez. 'Yet there are a lot of artists and graphic designers living here. From the Philippines, from the UK, from India, but there's no meeting place for these people… There's no community of arts.' Both Rodriguez and De Mesa hint at taking the art scene here beyond what they seem to regard as a largely staid gallery culture. 'I cannot go to [prominent galleries] to promote my art. Because it's 'fine art' they're looking for. Urban art is nowhere to be seen in these places.'
What then do they deem to be the flipside, so-called underground art? 'There's mainstream and there's the underground' explains De Mesa. 'Mainstream is what you see in the galleries, works that they're selling for Dhs20,000. Crazy money.'
This resistance to aspects of gallery culture here isn't isolated to Brown Monkeys. When Time Out met with Cliché (a free 'portable gallery' artzine that caters to artists and designers) earlier this month, they gave us an equally bleak vision of the present state of underground art here in the UAE. 'They're good guys, they're really pushing this culture forward' Rodriguez insists. 'We met them and realised we were both speaking the same language.' So when Cliche held their In A Box exhibition at Traffic back in June, the Monkeys contributed. It's no secret that people packed in to Traffic for the Cliché event. As Rodriguez says, 'People here are keen, they're very hungry for this. When they see something underground, when they smell something fishy, they'll sniff, sniff, sniff. '
So perhaps things aren't quite so bad as both groups suggest. The Monkeys appear to revel in the sheer underground-ness of what they do. It comes out in self-effacing offhand statements ('We don't take art seriously' says Lewis at one point) and the wry antipathy they express towards Dubai's art establishment ('I tell you man, when they see a can, they freak out').
But it's hard not to leave the Monkeys feeling that it must be quite a lonely outlook. 'We want people to come out of their holes and just do something' says De Mesa, but whether Dubai can sustain an alternative art scene is yet to be proven. The matter of how to get out there and noticed while staying true to that 'underground' remains right now an even mistier issue.
Dubai City 7
That Womens Show Interview. 08.21.08
Monkey Draw, Monkey Do
The Buzz Magazine. 07.20.08
Welcome to the Jungle
Canvass Magazine. 07.15.07
Monkeying Around
Ok Magazine. 07.10.07
The Brown Project
Time Out Dubai. 07.05.07
Take Art
Play Magazine. 04.15.07
Sneaker Pimps Feature
Infusion Magazine. 05.22.07